Game Name : Fight Competition
Members :
Rafli Trianindya Putra – 2201798585
Muhammad Fariz Sutedy – 2201811561
Screenshot of the game :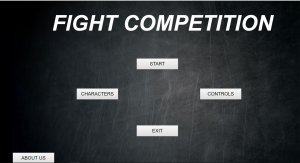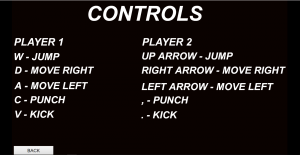 Background story :
A fight competition is held for the people who want their wish to come true, either it's saving their village or saving their family or their loved ones, the fighter who win the competition will be granted everything that they desire.
How to play :
This is a multiplayer game, so in order to play this game we need 2 players. In this game the players will fight until the last health, because when the health bar of the player goes to zero the player will die and the game can be restart to the original state.
CONTROLS :
For first player :
W – JUMP
D – MOVE RIGHT
A – MOVE LEFT
C – PUNCH
V – KICK
For second player :
UP ARROW – JUMP
RIGHT ARROW – MOVE RIGHT
LEFT ARROW – MOVE LEFT
, / < – PUNCH
. / > – KICK
Most of the sprites we take it from here :
http://network.mugenguild.com/pots/chars.html
My contribution in this project :
After I download the sprites, we use Fighter Factory Ultimate application, because when we download the sprites we download all of the sprites including all of the movement of the characters, so using Fighter Factory Ultimate we can sort which animation of the sprites that we need, and edit it and put it into the game, also I set up the character's health and making sure all the sprites are working well.